Many City Services Have Amended Operations for COVID-19 Response:
Updated: 9.25.2020
Emergency Services (Police and Fire):
Open and Operating
The Houston Police Department (HPD) is providing law enforcement security at the testing sites at Butler and Delmar stadiums. The HPD response to calls for service remains uninterrupted. Arrests and citizen contacts are being handled in accordance with COVID-19 department guidelines where possible.
Houston 311:
 Open and Operating
Administration & Regulatory Affairs Department:
The Administration and Regulatory Affairs Department (ARA) provides a wide variety of administrative services to the City of Houston's departments, such as 311 service request routing, payroll processing, asset disposition, citywide policy management, internal mail services, records management, and insurance risk management.
ARA also regulates a wide variety of activities such as on-street parking, pet ownership, vehicles for hire, investor-owned utilities, the City's public rights-of-ways, burglar/panic alarm ownership, sexually-oriented businesses, scrap metal dealers, game rooms, and many others. The department also coordinates the City's activities aimed at building a sustainable city for the future.
BARC Animal Shelters & Adoptions:
Guest and employees visitng City of Houston facilities will be required to wear face-coverings and undergo a no-touch thermometer temperature check beginning Monday, June 1, 2020.
In the interest of maximizing social distancing while continuing to provide opportunities for pet adoptions, wellness and other BARC services to continue to the public, effective immediately, BARC is implementing the following procedural changes:
Animal intake/ drop-off will be by appointment only starting Friday, April  10, 2020 and will be a drive-thru service only until further notice.
If you would like to schedule an animal turn-in, please click: *BARC will not turn away any sick or injured animals.
We ask the community to assist by not picking any stray animals unless citizens are prepared to care for them at home.
We also request that non-emergency, owner surrenders (i.e. turning in an owned pet) be postponed allowing BARC the resources to deal with emergency surrenders resulting from the current crisis.
BARC is providing pet food and crates, as available, to all citizens to support them in keeping animals in their possession. Other resources are available as well upon request.
Public Wellness for Pets will be by appointment only. Available times are Thursday – Tuesday from noon – 4pm and will be a curbside service only until further notice. Please click to schedule a wellness appointment for your pet. (*Max limit is 2 pets per person)
Foster Clinic services will be by appointment only. Available times are Thursday – Tuesday from noon – 4pm and will be a curbside service only until further notice. Please click to schedule.
Lost Pets/ Return to Owners will park vehicles and walk-through BARC.
Foster and Rescue Pick-up is a curbside service only for pre-selected pets and will be brought out to the customer's vehicle.
Animal Adoptions is a curbside process located at 3300 Carr Street
Volunteer Services have been temporarily suspended to protect our valuable volunteers and to allow for social distancing within the shelter.
Bite Case/Rabies Quarantine will continue regularly scheduled service hours Monday – Sunday 9am – 12pm and 1pm – 4pm.
Thank you for your patience and continued support; we apologize for any inconvenience these new measures may cause. We understand that the scheduling of appointments for customers at any given time may result in delays, but we ask for your patience and understanding as we do everything, we can to maintain the health and safety of our customers, our employees, and the animals in our care.
Read more on BARC's site: https://www.houstontx.gov/barc/
Housing & Community Development Department: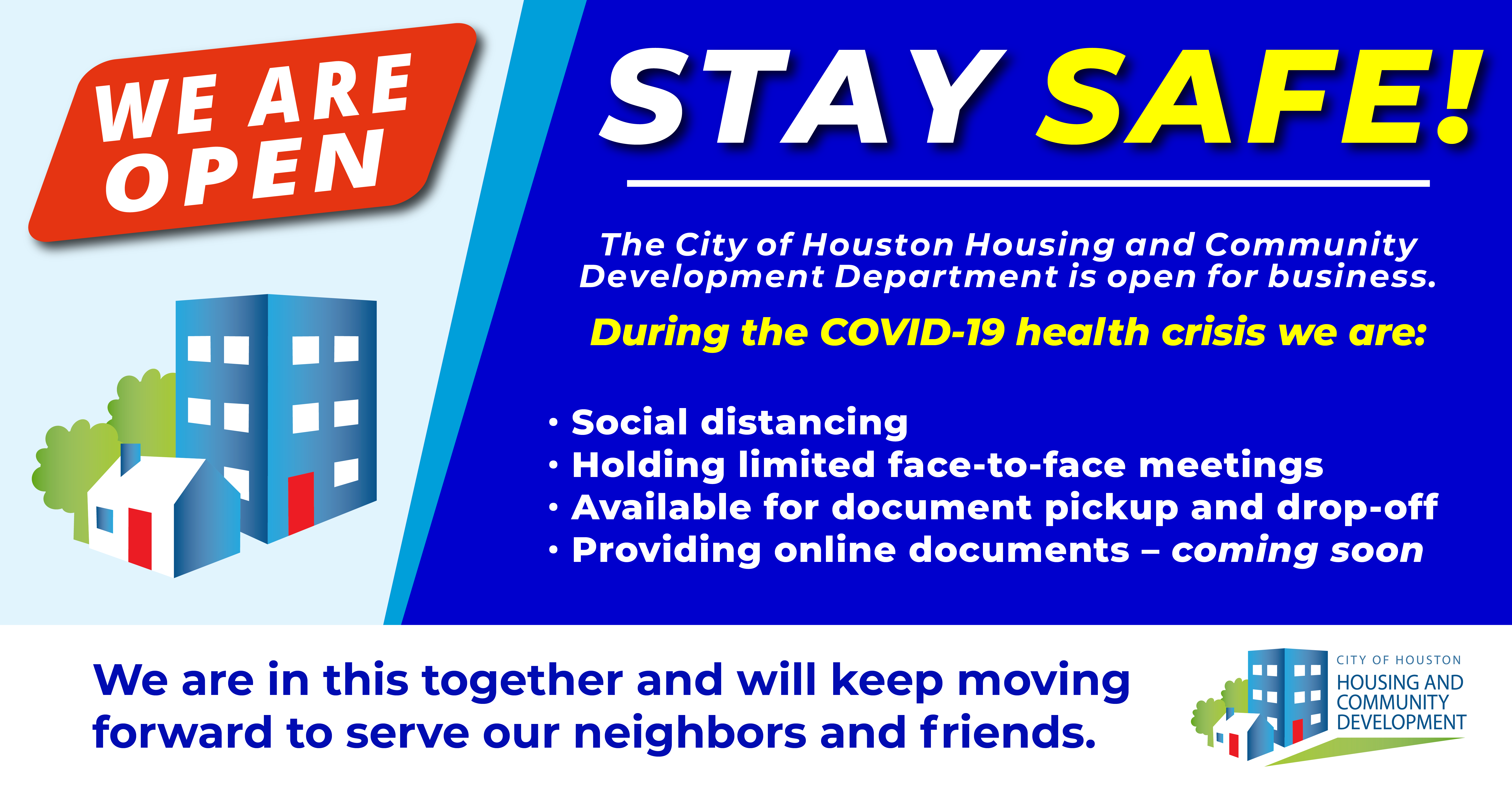 HCDD is OPEN for business as usual at 2100 Travis St., 9th floor. Many of our staff are working remotely. All visitors will be required to wear masks and have their temperatures taken at the 9th floor. We take the safety of our staff and residents very seriously.
The four Housing Resource Centers have re-opened but are limited to scheduled appointments and document drop-off only. Please see http://recovery.houstontx.gov for locations and information.
During our time of remote work, many scammers have contacted our clients. Please be cautious of fraud. Download a helpful tip sheet about fraudulent calls at https://recovery.houstontx.gov/report-fraud/
Our weekly Community Office Hours are still happening virtually! You can join us from 1pm-4pm each Wednesday by calling any of: 832-394-6912, 832-394-6227, or 832-394-6126.Our GIS team maintains a resource dashboard collecting #covid19 information at …https://hcdd-coronavirus-response-mycity.hub.arcgis.com. Check out some of the visualizations there!
As always, our work continues even remotely. We ask everyone to take care and #MaskUp to keep one another safe! Learn more on HCD's website: https://houstontx.gov/housing/
Houston Health Department:
The Houston Health Department is open and providing core services, with the following temporary modifications: Multi Service Centers are open with access limited to clients of existing tenants. Group events of more than 10 people are being rescheduled. The Eligibility Assistance service, which provides screening and certification for health care programs such as Medicaid and Harris Health, is consolidating to the West End Multi-Service Center. Read news release for more information.
The Harris County/Houston case dashboard updates daily at 4 p.m. at http://HoustonEmergency.org/covid19 where you will also find info about protecting your family and community.
COVID-19 Registry:
The COVID-19 Registry is a research study that provides real-time information on the spread of COVID-19, who is being affected, and how.
The COVID-19 Registry will help to:
Track virus spread over time and across geography
Measure economic and health impacts
Anticipate healthcare needs as the pandemic unfolds
Understand behavior in response to policy changes
Identify popular and effective sources of information
Once you join the COVID-19 Registry and take the initial survey, you will be asked to participate in follow-up surveys to update your health and economic situation. This information will help monitor changes over the duration of the pandemic.
Data from the registry will be stored in a highly secure system built by Rice University. Things that we learn from the registry will be published, but will not include any information that would identify you or any other participant.
Click the complete the registry.
Park Houston:
With the temporary suspension of face-to-face parking adjudication hearings at the Municipal Court, and in an effort to continue to encourage the health and safety of the public from the spread of the COVID-19, ParkHouston has extended the time frame to dispute parking citations online from 7 days from citation issuance date to 60 days from citation issuance date.
Please be advised while the time to protest online is being extended, delinquent fees will still be assessed per city ordinance.  As updated directives are received, this timeline is subject to change.  For questions please contact ParkHouston at 832-393-8690 from 8am-5pm, M-F.
Houston Parks & Recreation Department: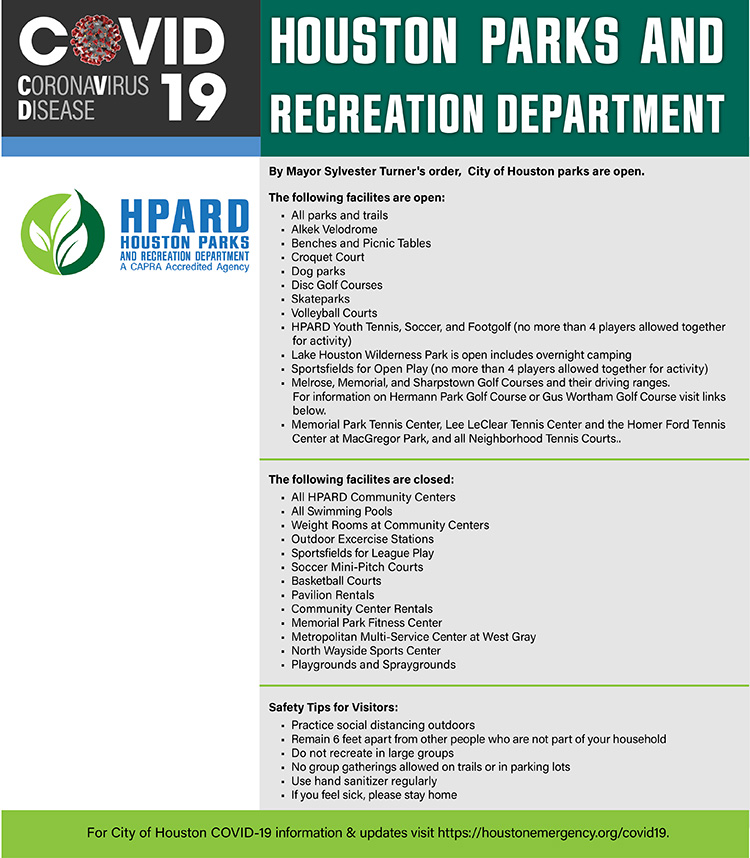 For information concerning the Gus Wortham Golf Course please visit http://www.guswortham.org/
For information concerning the Hermann Park Golf Course please visit http://www.hermannparkgc.com/
To read Houston BCycle's press release visit Houston BCycle
Mayor's Office of Cultural Affairs:
The Houston Arts Alliance has compiled a list of resources to help artists and non-profits navigate the COVID-19 pandemic. HAA has also launched a survey designed to collect information about the financial and human impacts that the spread of the coronavirus have had on arts and cultural organizations and artists since that date.
The CARES Act creates a temporary Pandemic Unemployment Assistance Program to provide payment to those not traditionally eligible for unemployment benefits (self-employed, independent contractors, and those with limited work history) who are unable to work as a direct result of the coronavirus public health emergency. We urge you to apply now.
For an FAQ about how to apply, visit https://ready.haatx.com/covid-19#/unemployment/.
West Gray Metropolitan Multi-Service Center:
The West Gray Metropolitan Multi-Service Center (MMSC) team, including the Mayor's Office for People with Disabilities (MOPD) and the Houston Parks and Recreation Department (HPARD), have been closely monitoring community developments in regards to the operations of the MMSC during this public health emergency. To decrease the community spread of novel coronavirus (COVID-19), the following measures were put into effect March 18, 2020:
The West Gray Metropolitan Multi-Service Center is closed until further notice
All HPARD and MOPD led events and activities at the MMSC will be cancelled through Thursday, April 30, 2020
Consistent with Mayor Sylvester Turner's emergency declaration and guidance from the Houston Health Department (HHD), private events, private leagues and private gatherings with 10 people or more are cancelled through Thursday, April 30, 2020
Houstonians with disabilities can still contact MOPD staff for referrals and constituent services by calling 832-394-0814 or by emailing mopdmail@houstontx.gov during normal business hours
MMSC outdoor amenities (tennis courts, trail, ball field and playground) will remain open to the public
Any changes to these procedures will be communicated through our social media channels and on our website. Houstonians should visit www.houstonemergency.org/covid19 for updated information about local risk, routine protective actions, frequently asked questions, communication resources, rumor control, emergency preparedness tips, and more.
Note: to support social distancing guidance in response to the COVID-19 pandemic, the monthly meetings of the Houston Commission on Disabilities will be held online until further notice. To request time for public comment, please email mopdmail@houstontx.gov or call 832-394-0814.
Memorial Park:
MEMORIAL PARK IS CURRENTLY OPEN, AND THE CONSERVANCY IS CLOSELY MONITORING OPERATIONS IN RESPONSE TO COVID-19. FOR THE LATEST CONSERVANCY INFORMATION, VISIT their COVID-19 SAFETY PAGE AND FOLLOW US ON FACEBOOK AND TWITTER.