The City of Houston's Office of Emergency Management continues to monitor the ITC Deer Park incident as it moves into the cleanup and recovery phase.
Air quality sampling by the Houston Health Department continues to show a low health risk in the City of Houston. The department is using more than two dozen air quality monitors across the City at fixed-sites and temporary locations set up for the next six months. The monitors sample for benzene and 53 other volatile organic compounds (VOCs) and particulate matter (PM).
The department also conducted sampling of Sims, Brays and Buffalo Bayous on Friday, March 22. Our water samples showed no indication of VOCs. These samples were sent to a lab for further analysis.
Houston Mayor Sylvester Turner and Houston Office of Emergency Management officials have participated in multiple news conferences on the topic:
What you should do:
Contact your healthcare provider if you have any questions or health-related concerns. Call 911 for any life-threatening emergencies.
If you do not have a health care provider, find a local health center near you: https://findahealthcenter.hrsa.gov/
Or Call the Harris Health System's 'Ask My Nurse' helpline for basic health questions. This line is open from 8 a.m. to 8:30 p.m. The number is 713.634.1110
Check on elderly neighbors or those who you are concerned about.
Talk to someone you trust if you're feeling stress or anxious. Or you can contact the National Distress Line (call 1-800-985-5990 or text TalkWithUs to 66746) offers 24/7 emotional support.
Texas DSHS Seafood Consumption Advisory: Do not eat seafood from Houston Ship Channel. Advisory:
The Texas Commission on Environmental Quality and the United States Environmental Protection Agency continue to monitor air quality near the ITC facility as well as in the community using portable monitors.
Air quality monitoring will continue for the duration of the cleanup operation. Air quality updates as well as a map showing the location and extent of monitoring are available at: Response.epa.gov/ITCTankFire, posted daily.
Our partners with the Harris County Office of Homeland Security and Emergency Management are sharing additional details at https://www.readyharris.org/Deer-Park-Fire.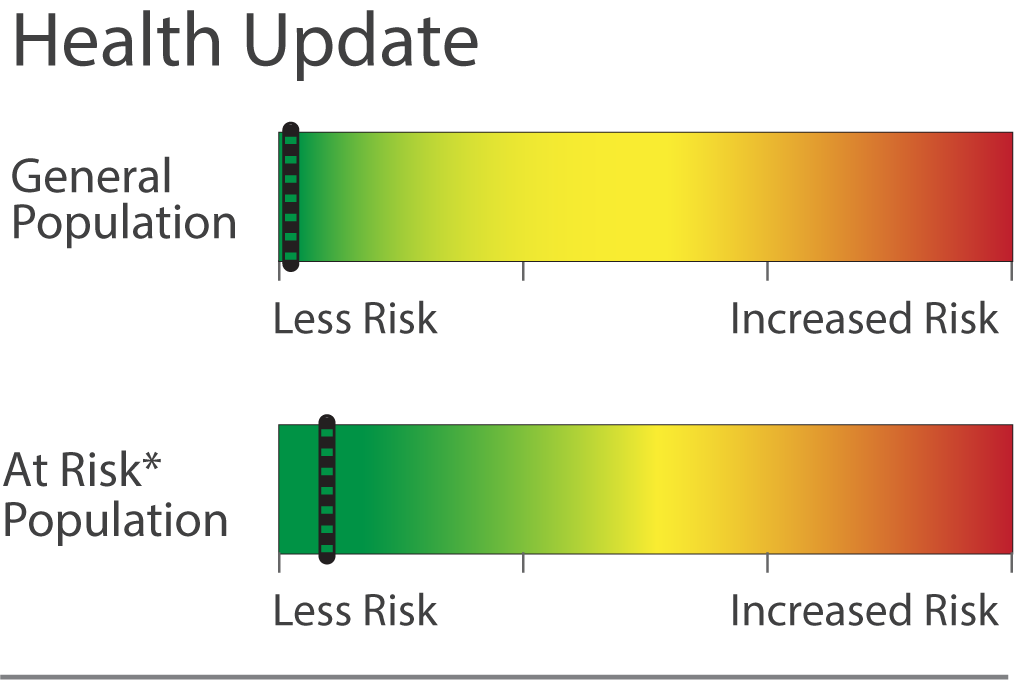 From our partners at Harris County: the markers on the graphics above denotes the level of approximate health risk for the general population as well as populations who may be more at risk.* At this point, Harris County Public Health is continuously monitoring the ongoing public health situation in coordination with Harris County Pollution Control Services and other response partners.
At Risk*: Children, Elderly, Pregnant women, those who have respiratory conditions, are immunosuppressed, etc.

Houston Water
Houston Water has not experienced and does not anticipate any water supply, water quality, or water pressure issues due to this event.
In an abundance of caution, Houston has voluntarily sampled treated water from its East and Southeast water purification plants for the past week. Results confirmed that there was no impact to our drinking water quality from benzene or other contaminants of concern from this event. Houston's drinking water is SAFE.
Weather Update:
Some light rain near the coast will move into the Gulf by mid morning. Skies will be generally cloudy this morning with some sunshine this afternoon. It'll be cool with high temperatures in the mid/upper 50's.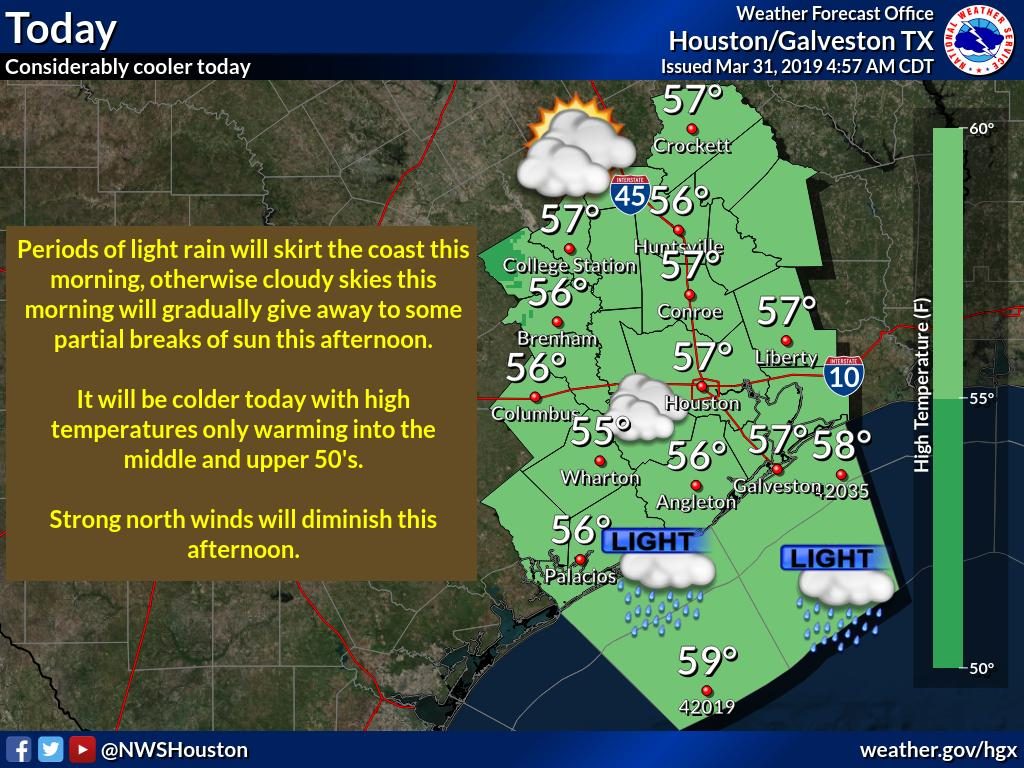 ITC Updates:
Via ITC: As of 7 a.m., March 29, a total of 40,385 barrels (nearly 1.7 million gallons) of product mixed with water and firefighting foam have been removed from the tank farm. Crews are currently working to remove product from tank 80-11. Once complete, crews will begin securing tanks 80-5 and 80-6.
In total, 51,089 barrels (2.1 billion gallons) of oily water mix have been removed from the waterways.
Visit https://itcresponse.com for more information.
ITC has established a telephone hotline for residents and businesses at 346.263.9766.
If you believe you have suffered damage or loss as a result of the incident, you can go to http://itcclaims.com, download and fill out the appropriate claim form, and submit it with supporting documents using the following email address: incidents31719@itcclaims.com, or by mail to the following address:
ITC Claims
March 17, 2019 Incident
P.O. Box 698
Deer Park, Texas 77536
Additional updates are available at https://www.deerparktx.gov and https://itcresponse.com.

Stay Informed:

Stay informed through official channels: radio stations 88.7FM or 740AM, local news stations, and monitoring official social media channels on Twitter and Facebook.
The CAER line also provides updates on industrial events and incidents in East Harris County. Download the CAER Line app or visit: http://www.ehcma.org/caeronline/