REPORT HOME DAMAGE
Houstonians can submit damages via the following "Personal Property Damage Reporting" forms:
Affected residents are urged to report severe winter weather damage to their homes. This will help the City of Houston provide an accurate summary of affected structures, which is required for the City and State to qualify for federal recovery assistance.
CITY OF HOUSTON LIFTS BOIL WATER NOTICE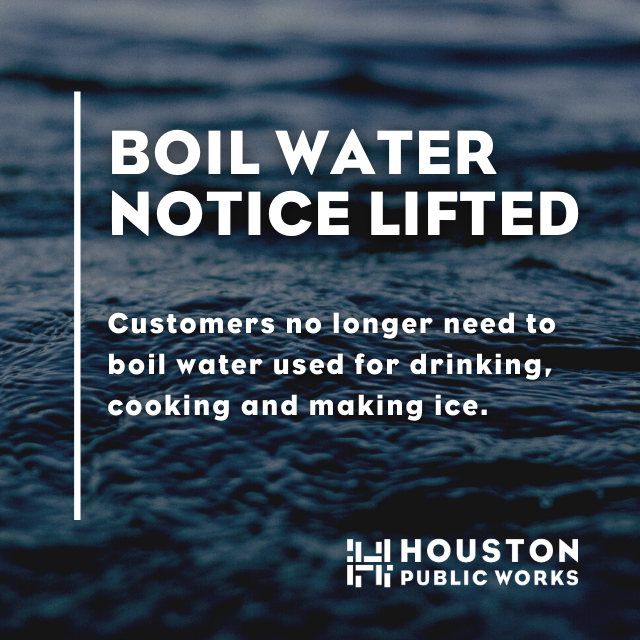 Effective immediately, the City of Houston has lifted the boil water notice that has been in place since Wednesday, February 17, 2021. Customers no longer need to boil water used for drinking, cooking and making ice. Water quality testing submitted to the Texas Commission on Environmental Quality (TCEQ) has confirmed that tap water meets all regulatory standards and is safe to drink.
On February 17th, TCEQ required Houston Water to issue a boil water notice for the City of Houston's Main Water System (TX1010013), and inform customers, individuals, or employees that due to conditions which occurred recently in the public water system, the water from this public water system was required to be boiled prior to use for drinking water or human consumption purposes.
Houston Water has taken the necessary corrective actions to restore the quality of the water distributed by this public water system used for drinking water or human consumption purposes and has provided TCEQ with laboratory test results that indicate that the water no longer requires boiling prior to use as of Sunday, February 21, 2021.
NEXT STEPS
Customers should flush their water system by running cold-water faucets for at least one minute, cleaning automatic ice makers by making and discarding several batches of ice, and running water softeners through a regeneration cycle.
Please share this information with all people who drink this water, especially those who may not have received this notice directly (for example, people in apartments, nursing homes, schools, and businesses).
If customers have questions concerning this matter, they may contact 311 (713.837.0311).
WATER QUALITY TESTING
Houston Water worked with TCEQ to establish corrective actions necessary to lift the boil water notice. The actions included analyzing 43 water samples from throughout the City of Houston as required by TCEQ. Test results indicated that water provided by Houston meets all regulatory standards and is safe for human consumption. On Sunday, February 21, 2021, TCEQ gave the City of Houston approval to lift the boil water notice. Water quality reports are available online at: bit.ly/houwaterquality
Bottled Water Distribution
The City of Houston has hosted a daily mass bottled water distribution site since Friday, February 19. Please contact your district council member's office for the most updated information on bottled water distribution sites. Find your council member here: http://www.houstontx.gov/council/.
Report Broken Pipes or Water Mains | Track Home Repairs
Broken pipes or water mains in your neighborhood? Contact the City of Houston online or via the 311 app so Houston Public Works can isolate the leak.
3-1-1 is experiencing extremely high call volumes and high wait times. Skip the wait and submit service requests online or on the app!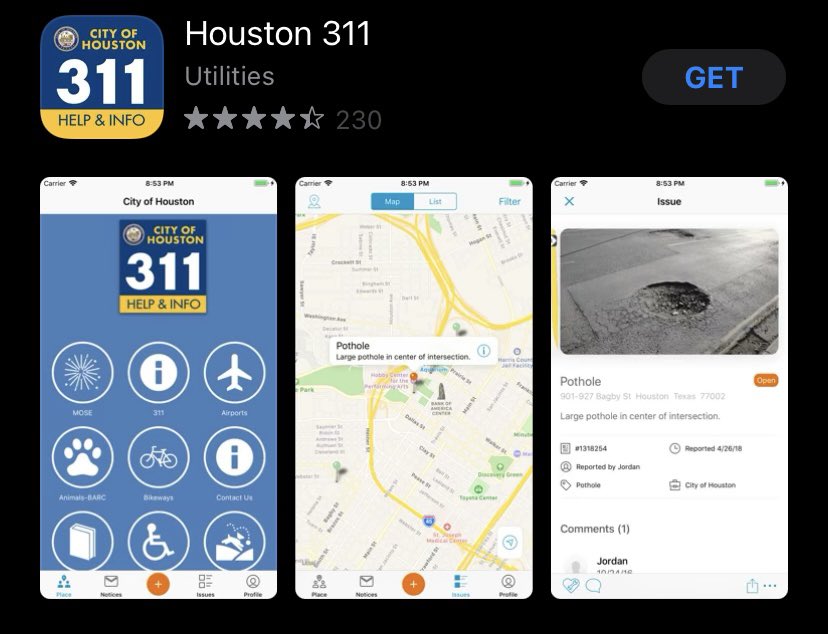 Home Repairs and Recovery
As residents begin to assess and repair any damages to their homes, we encourage residents to keep a record and take pictures of all property damage in the event reimbursement is available.
As residents, plumbers and other contractors begin to assess damage and make repairs to area homes and businesses, keep safe digging in mind. Contact 8-1-1 to have utility lines marked. Contact 8-1-1 before you dig to keep everyone safe.
https://call811.com/Before-You-Dig
Beware of Scams: We are hearing of scammers targeting Texas storm survivors. Beware of those contacting you unsolicited claiming to be from FEMA asking for your Social Security Number, bank account, or other sensitive information.
Also, no federal, state, or local disaster assistance entity will call you and offer assistance, but then ask you for money. Be wary of anyone reaching out to you. Monitor the news and local government emergency management notifications for assistance opportunities.
City Updates
Department of Neighborhoods

Due to widespread damage to many homes during last week's winter storm, the Department of Neighborhoods (DON) Inspections and Public Service (IPS) division will suspend heavy trash code enforcement, effective immediately through Friday, March 12, 2021 to allow residents adequate time to clear debris from their properties. The department will resume heavy trash code enforcement on March 15, 2021.
For information about heavy trash codes and guidelines, visit www.houstonsolidwaste.org and www.houstontx.gov/ips/avoid_common_violations.
For questions about notices and citations issued by DON, call the IPS Call Center at 832-394-0600.

BARC

BARC expects an influx of pets needing help in the next coming days due to the winter storm. You can make a difference during these challenging times by fostering a shelter pet in need! Sign up to become a BARC foster on our website - https://www.houstontx.gov/barc/foster_a_pet.html. If you are already an approved BARC Foster email BARCFoster@houstontx.gov to get started!
Due to conditions caused by the cold weather, BARC also needs additional blankets and pet bedding for shelter pets! We can use new or gently used blankets, towels, and pet beds. Donations can be dropped off through our back entrance located at 2700 Evella St from 9am - 5pm. Can't make the drive? You can donate from the comfort of your home via our Amazon Wish List.

METRO
Houston Municipal Courts
Mayor's Office for People with Disabilities

The Mayor's Office for People with Disabilities is partnering with Crowd Source Rescue to deliver bottled water to people with disabilities who don't have access to reliable transportation. We want to make sure that no one gets left behind, especially the most vulnerable populations. You can sign up for delivery here: crowdsourcerescue.org/freeze. Call 3-1-1 if you don't have Internet access and/or need additional assistance completing the form.

Houston Health Department

The Houston Health Department and its agency partners are announcing the schedule for sites offering free COVID-19 tests the week of February 22, 2021. Nineteen FREE+FAST+SAFE testing sites across Houston are on the schedule for the week. Read the full release: http://bit.ly/3bqf8S6

Parks and Recreation Department

Cullen Park – All phases are open. ALL restrooms will remain closed due to freeze damage. They will remain closed until repairs are completed.
Stay Updated
For the latest forecast from the National Weather Service, visit weather.gov/houston and follow them on social media, @NWSHouston.
Sign up for emergency notifications via AlertHouston: Alerthouston.org
Download a Disaster Preparedness Guide (available in six languages) and make a plan today: http://bit.ly/2NmO8IZ 
For information on roadway conditions, visit houstontranstar.org or follow the Texas Department of Transportation (TxDOT) on Twitter @TxDOTHouston.
---
Informes de daños a la propiedad personal
Se urge a los residentes afectados a reportar daños severos en sus casas relacionados con la tormenta invernal.
Esto ayudará a la Ciudad de Houston a obtener un calculo preciso de las estructuras afectadas, lo cual es requerido por la Ciudad y el Estado para poder calificar para ayudas de recuperación federal.
Distribución de agua embotellada
Cuando: Domingo 21 de febrero
La distribución comienza a las
2 p.m.
Dónde: Butler Stadium
13755 South Main Street
Póngase en contacto con la oficina de su concejal para obtener la información más actualizada sobre los sitios de distribución de agua embotellada: http://www.houstontx.gov/council/.
¿Hay tuberías o líneas de agua rotas en su vecindario? Póngase en contacto con la línea de información 311 o use la aplicación 311 para que Houston Public Works (Obras Publicas) pueda aislar la fuga.
3-1-1 está experimentando volúmenes de llamadas extremadamente altos y largos tiempos de espera. ¡Evité esperas y envié solicitudes de servicio sólo por la aplicación!
Reparación del Hogar y Recuperación
Mantenga un archivo y tome fotos de todos los daños a la propiedad en caso de que un reembolso esté disponible.
Cuidado con las estafas: Tenga cuidado con personas desconocidas que se pongan en contacto con usted sin solicitarlos y digan que supuestamente ser trabajadores con FEMA y le pidan su número de Seguro Social, cuenta bancaria o cualquier otra información confidencial.
Póngase en contacto con la oficina de su concejal para obtener la información más actualizada sobre los sitios de distribución de agua embotellada. Encuentre a su concejal aquí: http://www.houstontx.gov/council/.
Durante un Aviso de Hervir el Agua, los establecimientos de alimentos como los restaurantes deben cerrar a menos que puedan cumplir con los reglamento disponibles en este enlace: http://bit.ly/HHDWaterBoil.
El alcalde de Houston, Sylvester Turner, anuncia una Declaración de Emergencia ante desastres en respuesta al clima invernal extremo. La declaración entra en vigencia de inmediato para proteger y preservar la seguridad pública.
Actualizaciones de la Ciudad
BARC

BARC espera un incremento de mascotas que necesitaran ayuda en los próximos días debido a la tormenta invernal. Inscríbete para convertirte en un guardián de una mascota de BARC: https://www.houstontx.gov/barc/foster_a_pet.html
¡BARC también necesita mantas adicionales y artículos de cama para las mascotas en refugio! Las donaciones se pueden dejar en nuestra entrada en el 2700 de la calle Evella de 9 am a 5 pm. ¿No puedes hacer el viaje? Puedes hacer la donación a través de nuestra lista de necesidades por medio de Amazon Wish List:

METRO

METRO reanudó los servicios adicionales el viernes 19 de febrero de 2021. Todas las rutas locales operarán de acuerdo con sus horarios regulares. Infórmese en: http://ridemetro.org.

Oficina del Alcalde para Personas con Discapacidades

La Oficina del Alcalde para Personas con Discapacidades se está asociando con Crowd Source Rescue para entregar agua embotellada a personas con discapacidades que no tienen acceso a un transporte confiable. Queremos asegurarnos de que se atiendan las necesidades de todos, especialmente las poblaciones más vulnerables. Puede inscribirse para la entrega aquí: crowdsourcerescue.org/freeze.
Llame al 3-1-1 si no tiene acceso al Internet y/o necesita ayuda adicional para llenar el formulario.

Departamento de Salud de Houston

El Departamento de Salud de Houston y sus agencias asociadas están anunciando el calendario de los sitios que ofrecen pruebas gratuitas de COVID-19 la semana del 22 de febrero de 2021. Diecinueve sitios de pruebas GRATIS + RÁPIDAS + SEGURAS en Houston están en el calendario de la semana. Lea la versión completa: http://bit.ly/3bqf8S6

Departamento de Parques y Recreación

Cullen Park – Todos los baños están cerrados hasta el lunes 22 de febrero de 2021.
Cullen Park Fase I y II están abiertas.
Cullen Park Fase IV está cerrada hasta el lunes 22 de febrero de 2021.
Gus Wortham Park Golf Course abre el sábado 20 de febrero de 2021.
Hermann Park Golf Course abre el sábado 20 de febrero de 2021.

Departamento de Residuos Sólidos (Basura)

Las rutas de basura del viernes se recogerán el domingo 21 de febrero de 2021.
Pedimos a todos los residentes que tengan paciencia mientras nos recuperamos de la severa tormenta invernal de esta semana. Por favor, deje sus contenedores de basura (negros) en la acera y serán atendidos.
Mantente Informado
Para obtener el pronóstico más reciente del Servicio Meteorológico Nacional, visite weather.gov/houston y sígalos en las redes sociales, @NWSHouston.
Regístrese para recibir notificaciones de emergencia a través de AlertHouston: Alerthouston.org
Descargue una Guía de preparación para desastres (disponible en seis idiomas) y haga un plan hoy mismo: http://bit.ly/2NmO8IZ
Para obtener información sobre las condiciones de las carreteras, visite houstontranstar.org o siga al Departamento de Transporte de Texas (TxDOT) en Twitter @TxDOTHouston.